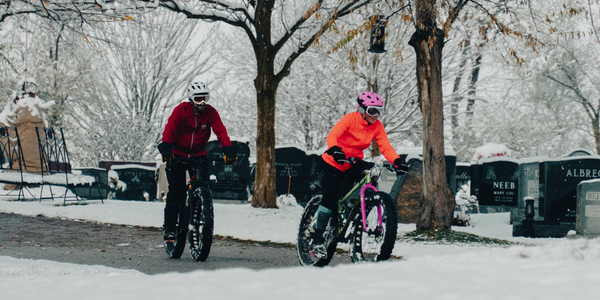 Cycling doesn't have to stop the moment the first snowfall hits! You can extend your riding season for the full year with these winter cycling tips for beginners:
1.) Invest in a pair of studded tires
Getting studded tires installed on your bike isn't a requirement to get out onto those snowy paths, but, they will give you more grip and keep you from slipping and sliding.
Check out The Ultimate Guide To Winter Bike Tires And Studded Tires
2.) Stay visible
We all know it gets darker earlier during the winter months, so it's important to be visible when you're riding your bike in the early morning and evening. The best way to increase your visibility is to attach a couple of lights to your bike, one on the front and one on the back.
Check out the best bike lights of 2022 
3.) Install fenders
Once snow has been on the ground for a while it can quickly turn to slush, which can make for a pretty uncomfortable bike ride. To prevent slush and water from kicking up and getting you wet, install a pair of fenders on each tire.
Check out the best mudguards and fenders
4.) Take your time!
When conditions are poor (ice, wind, low visibility) slow down your pace. By taking your time you'll reduce the likelihood of an accident.
5.) Don't overthink your outfit
You don't need to invest in hundreds of dollars in new gear to stay warm when you're riding. The best way to keep warm is to wear what you would if you were going on a walk. AND, make sure to layer, when you're working hard riding through the snow, you might want to shed a few layers.
Looking for more winter cycling tips? Check out our latest podcast episode featuring the Canmore Community Cruisers: