We're Alberta's environmental good-news storytellers
By showcasing our province's leaders who are raising the bar in addressing environmental and climate change issues, we aim to inspire others in their own journeys towards environmental stewardship
We're committed to providing year-round programming that engages, informs, and empowers environmental stewardship in our province. What began as the Emerald Awards in 1992, our flagship program, has evolved into a 12-month conversation.
We've expanded our capacity and programming to include a robust communications strategy that tells Alberta's environmental good-news stories and funding opportunities that educate and empower Alberta's next generation. This progression allows for a larger positive environmental impact that benefits individuals and communities all across our province. We do this through the generous support of our sponsors who are dedicated to creating a bright future for our province and our planet.
MISSION
To showcase, inspire, and empower Alberta's environmental achievements.
VISION
Through our actions, we contribute to a more sustainable future for all.
VALUES
Promoting environmental leadership.
Communicating and collaborating with others.
Ensuring the integrity and credibility of the Foundation.
Engaging the next generation.
meet the staff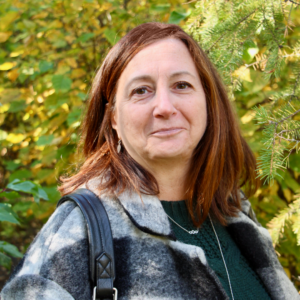 Marisa Orfei, Executive Director
marisa@emeraldfoundation.ca | (780) 938-6177
Marisa is a creative and innovative leader with a passion for telling stories and building relationships. Throughout her career, she has created and told important stories that impact positive change in our community.
Marisa has extensive leadership, stakeholder relationship, and communications experience within government, philanthropic and not-for-profit organizations. Her career began at Alberta Environment and led to her role as Director of Communications for the Premier.
Marisa then spent 10 years with the Palix Foundation developing and implementing creative communications strategies for complex research. She produced award-winning resources that told the story of 'How Brains Are Built'.
Marisa then took on a position as Interim Executive Director for APPLE Schools, focused on giving schools and children a healthier future.
Her other passions include spending time with her family and friends, traveling, gardening, and cooking from scratch!
---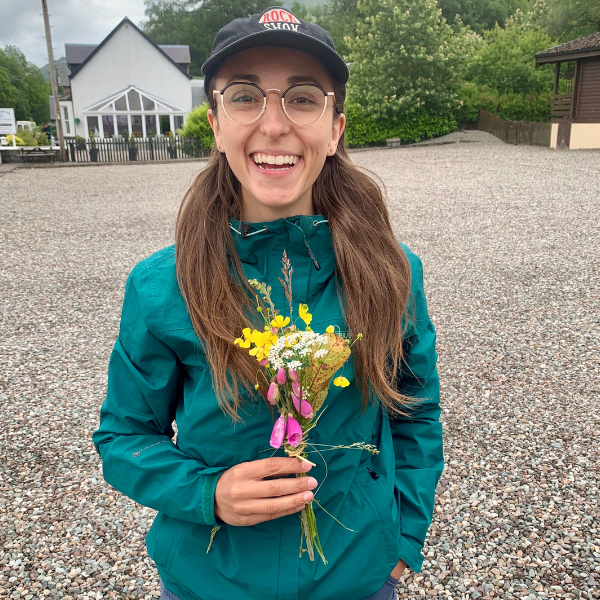 Sabrina Huot, Communications & Engagement Specialist
sabrina@emeraldfoundation.ca | (780) 616-1556
Sabrina (she/her) was introduced to the world of sustainability in the first year of her Undergraduate at MacEwan University through the Office of Sustainability, where she was a member of the Sustainability Leadership Council (SLC). It was through the SLC that Sabrina was first introduced to the Alberta Emerald Foundation after receiving an Emerald Award in the youth category in 2019!
After graduating with her Bachelor of Commerce in 2020, things came full circle and Sabrina joined the Alberta Emerald Foundation. Sabrina loves being able to help tell Alberta's environmental good news stories and can often be found gushing about how much she loves her job (her words, not ours!!)
Outside of the office, Sabrina can be found bouldering at the local climbing gym, exploring the backcountry, and tackling various vintage sewing projects! Sabrina lives in Edmonton with her partner and her Corgi, Cleo.
board of directors
The Alberta Emerald Foundation operates under the guidance and expertise of its Board of Directors. Thanks to their generous contributions of time and talent, the AEF is successful in its mission to showcase and inspire environmental achievements in our province.
If you're interested in joining our Board of Directors, please contact Marisa Orfei, our Executive Director.
Executive Committee
Chair: Lee Funke, President, Torque Communications
Past Chair: Mark Brostrom
Resource Development Committee Co-Chairs: Katherine Rogers, M.Sc. Student – Department of Resource Economics and Environmental Sociology, University of Alberta & Trina Innes, Executive Director, Municipal Climate Change Action Centre
Treasurer & Finance Committee Chair: Rebecca Grant, Finance Manager, LNG Canada Pipeline
Directors
John Parkins, Professor, Environmental Sociology, University of Alberta
Che-Wei Chung, Director, Advocacy and Policy, Alberta Municipalities, Alberta Urban Municipalities Association
Jen Silverthorn, City of Calgary
Patrick Jones, Sustainability Manager & Capital Projects Coordinator, Fairmont Jasper Park Lodge
April Moon, Director, Asset Performance Liquids Pipelines – Enbridge
Debbie Rheinstein, Teacher for Calgary Board of Education
Christine Hornung, MSc & BFA (in progress), SomeArtyGirl Studios
LAND ACKNOWLEDGEMENT
We acknowledge and honour that we operate on Treaty 6, Treaty 7, and Treaty 8 territories, of which we have been beneficiaries since their signing. We extend our hands in peace and friendship to all Indigenous peoples who have made these places their homes since time immemorial.
We are grateful for the journey we are on as treaty people, with the responsibility and opportunity to carry forward and renew the spirit and intent of those agreements. To learn, to grow, to celebrate this journey of discovery, and to share our stories as long as the sun shines, the grass grows, and the rivers flow.
We call forward the spirit of tatawaw which in nehiyawewin means "Welcome, there is room" to guide us as we do our part to make Alberta a more welcoming and sustainable place to live for all.
We acknowledge and honour the fundamental value and dignity of all individuals. We believe in embracing diversity, equity, and inclusion within our organization and welcome those from all walks of life, regardless of race, colour, gender identity, sex, ancestry, religion, ethnicity, sexual orientation or expression, age, marital status, or disability.
We encourage conversation on our social platforms and in all our programs. In our effort to create and maintain a safe space for all to participate, we will remove any posts or comments that are discriminatory and act against the above statement.