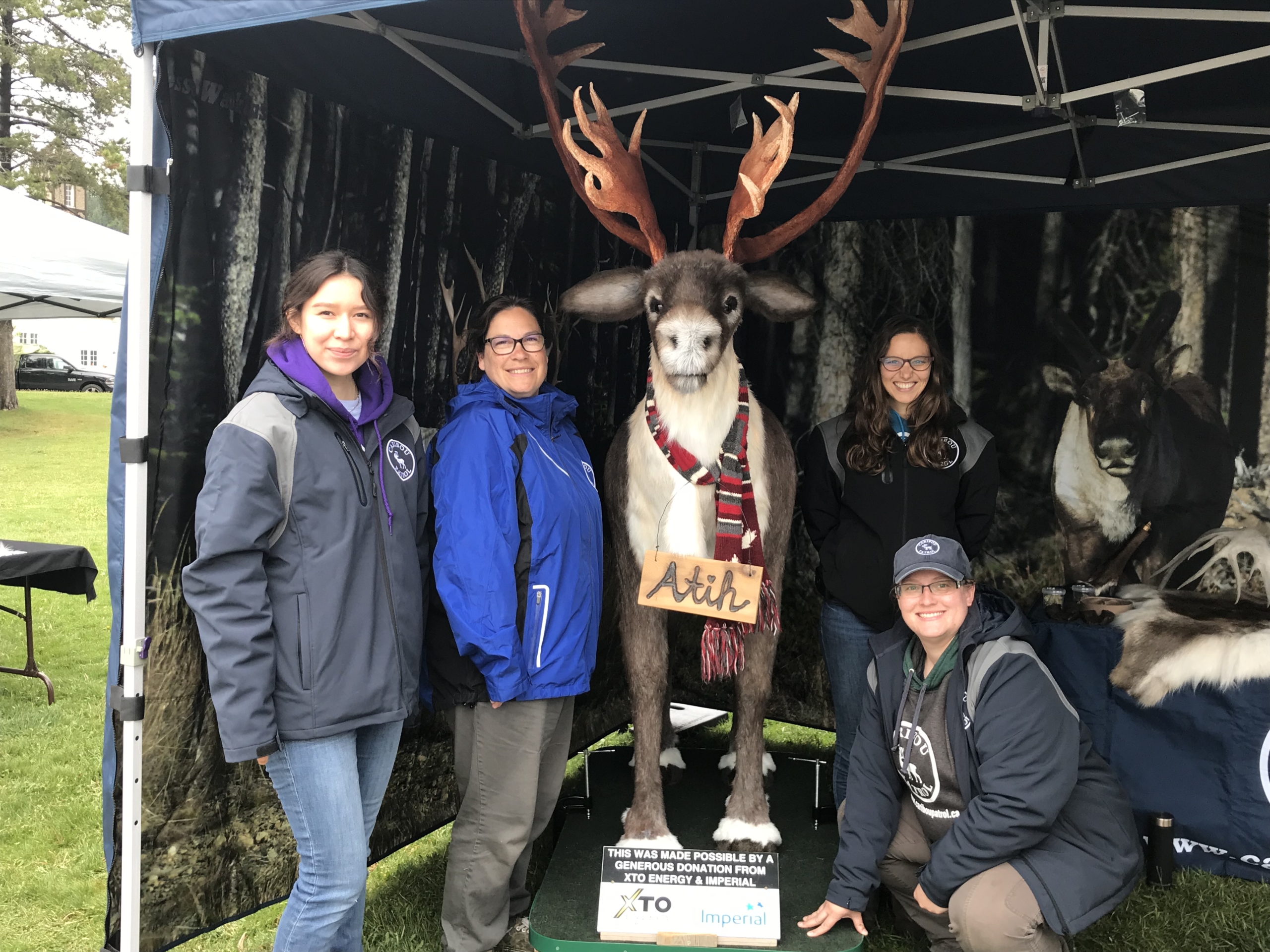 The Caribou Patrol Program is led by the Aseniwuche Winewak Nation (AWN) and therefore must build unity in our community by working together to preserve our land, language, and culture. We do this by preventing caribou deaths on Highway 40 during migration seasons and education to raise awareness of the issue among drivers and the public.
The sacred and important knowledge from our Elders guides us and our youth inspires us to make a better future. Seven Cree principles were identified by our Aseniwuche Elders and Traditional Knowledge Holders as fundamental to Aseniwuche Winewak Nation. Our Caribou Patrol Program is most directly guided by the following four:
ᓀᐦᐃᔭᐤ

ᐱᒪᑎᓯᐃᐧᐣ

nehiyaw pimatisiwin encompasses the principles and related laws connected to the Cree way of life. Many Elders and knowledge keepers interpret

ᓀᐦᐃᔭᐤ

ᐱᒪᑎᓯᐃᐧᐣ

nehiyaw pimatisiwin as being connected to a traditional way of life, and they identify their relationship to the land as being central to their identity.

As a principle,

ᓀᐦᐃᔭᐁᐧᐃᐧᐣ

nehiyawewin may provide the lens through which Cree people perceive themselves and through which they understand the world around them. It is used to communicate Cree people's history over the ages, providing knowledge of their roots and of their Nation's foundational principles. AWN's native language, a distinct Cree dialect spoken by the majority of the Nation's population, is a core aspect of their life and of their identity.

ᐊᐧᐦᑯᐦᑐᐃᐧᐣ

wahkôtowin may be described as the principle and related laws that govern relationships and guide conduct. Within this concept is the recognition that all beings are related in the world and it encourages all peoples (Indigenous and non-Indigenous) to show respect for one another and for all other relations, including plants, animals, the land or the spiritual beings. The principle of A

ᐊᐧᐦᑯᐦᑐᐃᐧᐣ

wahkôtowin entails responsibilities and obligations to all of creation and, in turn, all of creation has responsibilities and reciprocal obligations toward human beings. One AWN member comments on the positive effects of observing these reciprocal obligations as he highlights the importance of protecting the caribou's habitat on the Nation's territory for the Nation's well-being.

ᒪᓇᒋᐦᑐᐃᐧᐣ

manâcihtâwin encompasses the principle and related doctrines of respectful relationships between all beings, animate and inanimate. It may be defined as "civility, showing respect to all of creation". Respect and reciprocity guide the relationship that Cree people hold with the land; natural laws dictate that there are consequences to the treatment of the land which may have an impact on future generations. Maintaining a good relationship with the land is considered by many as being a critical responsibility in order to ensure the survival and continued well-being of their family and the Aseniwuche Winewak Nation as a whole. They understand that the relationship to the land is reciprocal.
Environmental benefits and outcomes of AWN's Caribou Patrol Program include:
Reducing the potential of vehicle collisions with woodland caribou on area roadways through periodic road patrols (1,599 days of road patrols and patrolled over 525,000 kilometers).

Increasing the awareness of caribou management through education and outreach for three specific audiences: the public, industry, and students (distributed 6,350+ EduKits, presented to over 2,000 people, and had over 10,000 face-to-face engagements).

Collecting data on wildlife sightings to improve knowledge of local caribou herds and other species (recorded 9,200+ wildlife sightings).

Improving public safety by providing the public with wildlife roadsharing information and tips. Each year we interact with the public on Highway 40. We share information about caribou as a species at risk, that caribou populations within our traditional lands are desperately low and facing extirpation unless drastic measures are taken, and we ask the public to help us by reporting any caribou sightings.