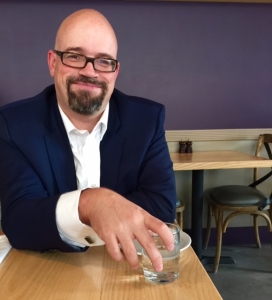 The 25th Annual Emerald Awards were filled with many special moments, including when Derek Beaulieu, former Poet Laureate of Calgary, delivered this stunning poem he created exclusively for the event.
Emerald, Silver, Turquoise . . . 
The alien landscape of Lake Abraham on the North Saskatchewan River, near Nordegg, has fascinated the internet. Photographs of its eerie surface floods Instagram and Twitter. During the summer months, the glacial fed, crystal turquoise of Lake Abraham belies its creation as the result of the 1972 construction of the Bighorn Dam. Turquoise – which happens to be my birthstone—is considered soothing to the touch and healing to the eye. The unearthly teal of the lake suggests the fragility of a robin's egg, the polished glint of a mosque or temple, calling for the belief in something bigger than each of us.
In the winter months, Abraham Lake transforms into something from a dream. The submerged decomposing plant life of the lake releases methane gas, which freezes in the icy Albertan winters to create otherworldly columns of frozen explosive bubbles—a beautiful phenomenon which brings us to the cusp of thought: the fragility of a soap bubble, filed with a threatening eruption.
The innovative stewardship that we celebrate at the Emerald Awards is just that: fragile flashes of beauty which stay a moment of thought, a moment of contemplation, a moment of "what if…"
A friend of mine recently categorized New York City's population in to two groups: residents and tourists; neither of which is based on where people are from. Tourists arrive in the city to absorb, to learn from, to "take" something and then return home. Residents, as part of living in the city, give back to the city, they learn with and teach, and they make the city what it is.
The Emerald Awards—and each of you—celebrate the resident, those who stay and work for change, work to imagine, work to invest and reinvest in the "what's possible." You suspend the bubble; keep that explosive moment as a catalyst for change—and then you stay and change.