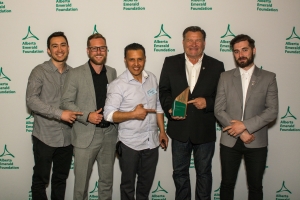 For more than a quarter-century, the Emerald Awards have recognized and celebrated the outstanding environmental achievements of large and small businesses, individuals, not-for-profit organizations, community groups, youth, and governments in our province.
Since 1992, the Alberta Emerald Foundation (AEF) has showcased over 300 recipients and 800 finalists through the Emeralds. This year, it could be you!
"We are the only awards program in Canada that recognizes and celebrates environmental excellence across all sectors in our province," says Carmen Boyko, Executive Director, AEF. "Over the history of our Foundation, we have witnessed outstanding achievements by everyday Albertans that we can all be very proud of. By showcasing the hard work, innovation, and creativity of Alberta's EcoHeroes, we hope to inspire others to make positive changes to their personal sustainability practices."
28th Annual Emerald Award Categories
Business: Large and Small | Not-for-Profit Association: Large Organization and Grassroots | Education: School or Classroom and Post-Secondary | Public Education & Outreach | Government Institution | Lifetime Achievement | Youth | Shared Footprints | Emerald Challenge: Climate Change
Nominations will be open until February 8, 2019. The AEF then entrusts a panel of knowledgeable judges with cross-sectoral experience to select its finalists and recipients in each category. The 28th Annual Emerald Awards will be presented on June 5, 2019 in Edmonton, coinciding with Canadian Environment Week. Thanks to the generous support of sponsors and donors, participation in the Emerald Awards program is free of charge.
In addition to the Emerald Awards, the AEF (a not-for-profit charity) works year-round to inspire and showcase environmental excellence in Alberta. Their programs also include the Emerald Speakers Series, Youth Environmental Engagement Grants, Emerald Day, and the Sharing Stories media strategy.
Submit your nomination for the 28th Annual Emerald Awards now emeraldfoundation.ca.
##
For more information, or to arrange an interview, please contact:
Gregory Caswell | Communications & Outreach Manager, AEF
780/905.0390 | gregory@emeraldfoundation.ca