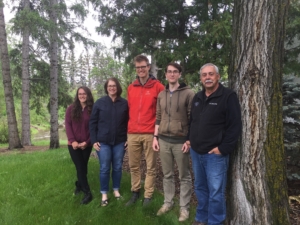 The Agroforestry & Woodlot Extension Society (AWES) was formed in 2010 out of the Woodlot Extension Program, a government initiative to encourage sustainable development of private forests.
The non-profit restructured and added agroforestry to its mandate in recognition of the prevalence of agriculture within and around these forests.
"When it started in 2010, its primary purpose was education," says executive director Noel St Jean. "We didn't actually do on-the-ground projects."
That has since changed, says St Jean. While educational workshops are still a core component of AWES, they have also spurred larger and more involved projects. The Blindman River Restoration Project started with a conversation after a workshop and grew into a multi-faceted restoration effort aimed at mitigating flooding, creating wildlife habitat and allowing for sustainable land-use. AWES has planted over 30,000 seedlings in the area.
"It's a very busy organization," says St Jean.
AWES education and promotion programs also provide farmers with knowledge of the options available to them for sustainable development. There are a slew of agroforestry models beyond the society's initial woodlot extensions, which still predominantly function to harvest lumber.
Shelter belts use trees as barriers from wind and snow. Alley cropping plants rows of trees to create alleys where crops are grown. AWES has also started promoting silvopasture — an integrated management of trees, forage crop and livestock on the same parcel of land.
"Across the world, there's a lot of that done in a lot of smaller countries," St Jean says.
Trees are also ideal for carbon management, doing a better job at carbon capture than agricultural crops, he says.
While there are many commercial and economic benefits to these models, St Jean says there has also been a growing drive towards environmental stewardship among farmers in the province.
He says there's been more demand and more trees planted every year.
"There's a lot of individuals in Alberta that are seeing the value in planting trees but they had no way to do it in the past," he says.
"On private land, there really wasn't an avenue for that to happen until AWES started it."