Hot summer days and Plastic Free July are upon us, and Alberta is ready. We're known for it; as soon as the snow melts, Albertans are wearing their shorts. We embrace summer like no other province, stubbornly hanging out on restaurant patios with blankets over our legs in April. With all the natural beauty to see, festivals and events to attend, and fresh local food to eat, a staycation is ideal in Alberta! We might leave the car in the garage in favour of the bicycle in the summer, but how else can we celebrate sustainability?
Here are 7 exciting events happening in Alberta this summer, where you can not only do something fun, but learn about our province's natural environment and zero waste initiatives!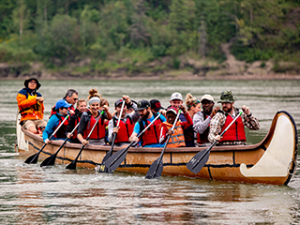 When: Saturday, June 29, 2019 (10AM-5PM)
Where: ATB Financial Arts Barn, 10330 84 Ave NW (Edmonton)
Cost: Free to attend
Locale Festival is a free admission event dedicated to zero waste and low impact shopping while educating the community. It's right by the classic Old Strathcona Farmers' Market, so bring your reusable bags!
When: Various dates throughout July and August 2019
Where: Bow River (Calgary) and North Saskatchewan River (Edmonton)
Cost: $20 (registration required in Calgary or Edmonton)
Back by popular demand, the RiverWatch Eco-Float is a great way to get outdoors and into nature this summer! Professionally guided by experienced staff, participants will travel in large, inflatable seventeen-passenger rafts and along the way learn about natural history, water quality, environmental health, flood recovery and stewardship actions.
When: Thursday, July 4, 2019 (12:30PM-4PM)
Where: Yellowbird East Community Hall, 10710-19 Ave NW (Edmonton)
Cost: Free (registration required)
The Alberta Council for Environmental Education supports and connects those working in environmental education in the Edmonton region by offering workshops 3 to 4 times per year. At "Fun in the Sun", you'll leave with a better understanding of best practices for environmental education through a showcase of activities, build a stronger regional network with others delivering environmental education, and explore ways the regional network can play a role and contribute to advancing environmental education in Alberta.
When: Thursday, July 4, 2019 (6PM-8:30PM)
Where: Downtown Edmonton
Cost: $20-25 (registration required)
On this tour, you'll get to meet the beekeepers, business owners, and advocates interested in building food security at three stops. The Edmonton Convention Centre was installed in 2016 with one hive of 8,000 bees, managed by professional beekeeper Patricia Milligan of Lola Canola Honey. At MacEwan you'll meet the beekeeper and learn more about the 6 rooftop Flow Hives, solitary bee hotels, the importance of wild pollinators, and how to get involved with sustainability. Then onto Northlands Urban Farm, home to a flock of hens, a hive of honey bees, an innovative vegetable and herb farm, a tree nursery, a pollinator patch, a worm compost, and solitary bee hotels. Find out how these unique partnerships have created a vibrant model of urban agriculture in the heart of Edmonton! All proceeds support the Urban Beekeeping Project at MacEwan University.
When: Saturday, July 20, 2019 (11AM-6PM)
Where: East Village Crossroads, 6 Avenue SE & 6 Street SE (Calgary)
Cost: Free to attend
Plastic-Free YYC is hosting Alberta's first Zero Waste Festival, an interactive event focused on reducing waste. Learn about sustainable living from expert speakers, connect with environmentally innovative businesses, and take part of the growing community striving to reduce waste!
When: Saturday, August 10, 2019 (8:30AM-5PM)
Where: Laurier Park (Edmonton) and Voyageur Park (Devon)
Cost: Prices vary to float (registration required), free land activities list coming soon
EPCOR RiverFest is a celebration of our North Saskatchewan River and the River Valley park system. Each location features a different variety of outdoor activities all geared up to help get you active in our river valley and on the North Saskatchewan River. Participants can purchase tickets to float on the North Saskatchewan River, explore free land activities in the river valley, and connect with river-valley related businesses, organizations, and clubs.
When: Various dates throughout July and August 2019
Where: Sir Winston Churchill Square, (Edmonton)
Cost: Free (registration required)
The Downtown Sustainability Stroll will highlight the innovative ways the City of Edmonton and Edmonton businesses have reduced their impact on the environment by outlining the many initiatives that are happening right within the heart of our city. They will also share how you can take personal action to reduce your impact through the city's Change for Climate initiative. Be prepared for the weather and a walk of just under two kilometers which will take you from City Hall to the Edmonton Convention Centre and back to Churchill Square.
Know of a fun environmental event coming up in our community? CONTACT or share with us on social media!