The Alberta Emerald Foundation recognizes and celebrates environmental achievements and stewardship in Alberta, establishing an example of excellence for all to follow.
Since 1992, over 2500 examples of creative thinking and innovation in environmental management systems, technologies and education programs have been shared, helping Alberta balance its growth and resource development with the preservation of our environment.
The goals of the Alberta Emerald Foundation are to:
Recognize environmental excellence

Recognize and celebrate environmental excellence.
Create local pride in environmental achievements.
Create awareness around the province about environmental excellence.

Inspire environmental innovation and improvements.

Increasing community engagement.
Maintain our breadth of recognition.

Increase awareness of the Foundation and its initiatives.

AEF is recognized as Alberta's good news environmental storyteller.
A demonstrated year-round value of the AEF's programs.
A network of healthy connections.
An engaged group of volunteers and members.
Understand the value of the AEF's brand.

Financial stability of the Foundation is achieved.

Endowment fund and investments are thriving and well managed.
Annual financial targets are reached so that programs are fully funded.
Diversify funding sources.
Ensure value added to all partnerships.
Stable funding to maintain current operations and programs.

The Foundation is operationally effective and sustainable.

Effective and sustainable board governance.
By celebrating environmental excellence, the Alberta Emerald Foundation works to raise the public's awareness of the successful growth and improvement in these areas, and to inspire positive involvement in the protection of our environment.
MISSION
To recognize and celebrate environmental excellence.
VISION
Alberta Emerald Foundation inspires environmental excellence and improvement.
WE VALUE
Promoting environmental leadership.
Communicating and collaborating with others.
Ensuring the integrity and credibility of the Foundation.
Engaging the next generation.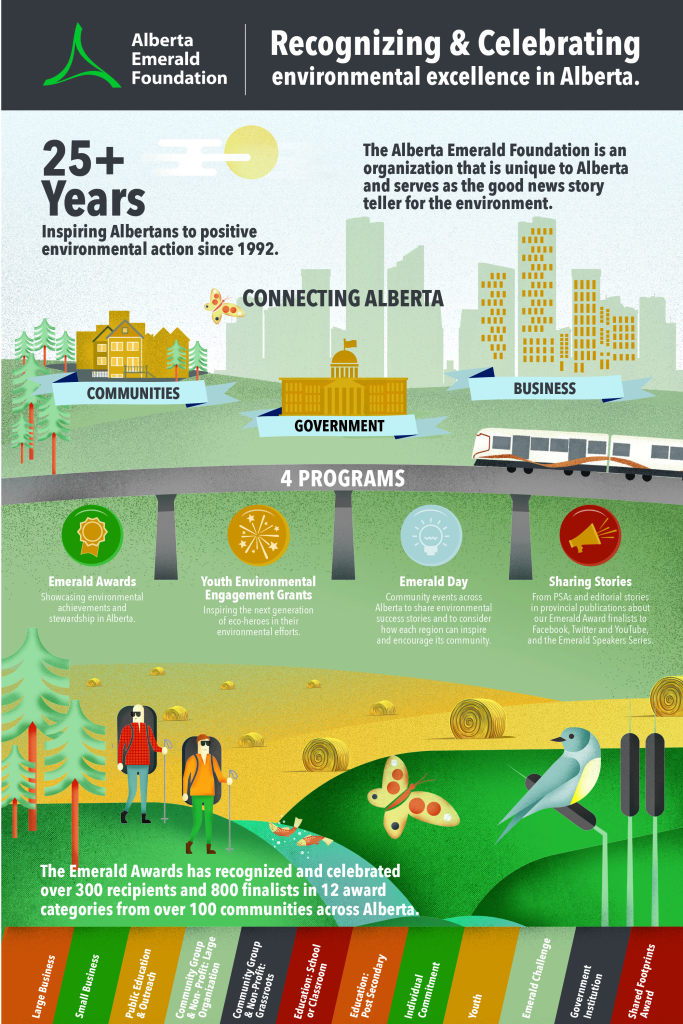 Who We Are
The Alberta Emerald Foundation operates almost exclusively through the contributions of time and talent of committed volunteers. From board and committee members, to those who judge over 100 Emerald Award nominations each year, the importance of this group cannot be overlooked.
Chair:
Andy Etmanski, Principal
Millennium EMS Solutions Ltd
Vice-Chair:
Vacant
Past-Chair:
Alan L. Ross, Partner,
Borden, Ladner Gervais, LLP

Treasurer:
Alex Simpson, CA
Tourmaline Oil Corp.
Communications Committee Chair:
Lee Funke
Consultant, Torque Communications
Resource Development Committee Chair:
Erin Newell-Lupien
Senior Advisor, Community Relations, ATCO
Governance Committee Chair:
Meagan Lukien
Environmental Coordinator, Infrastructure, District Operations, Edmonton Public Schools
Mark Brostrom, P. Eng., Director, City Environmental Strategies | Urban Planning & Environment | Sustainable Development Department, City of Edmonton
Katherine Rogers, Branch Internet Administrator for Government of Alberta, Agriculture and Forestry.
Peter Koning, Director, Sustainable Development Integration, ConocoPhillips Canada
Jason Proche, Leader, Strategic Planning and Governance, The City of Calgary
Robert Stokes, RPF, Executive Director, Community Engagement Branch, Strategy Division, Alberta Environment and Parks
Ken Kan,
VP, Environment Health & Safety, GE Energy
Staff:
Executive Director:
Carmen Boyko
Communications & Outreach Manager:
Gregory Caswell
The Alberta Emerald Foundation is a registered charity.
CRA Charity Number #13380 0771 RR0001
Volunteering with the Alberta Emerald Foundation
The Alberta Emerald Foundation is volunteer driven. We thank those who generously share their time, talent and expertise. Volunteers are involved with the Board of Directors, committees, special events and as ambassadors.