The Alberta Emerald Foundation recognizes and celebrates environmental achievements and stewardship in Alberta, establishing an example of excellence for all to follow.
We are Alberta's environmental good-news storytellers. We connect our province's environmental leaders and provide a voice to share their positive examples to inspire others. 
We are committed to providing year-round programming that engages, informs, and emboldens environmental stewardship in our province. What began as the Emerald Awards in 1992, our flagship program, has evolved into a 12-month conversation. 
We have expanded our capacity and programming into a robust communications strategy that showcases our province's environmental achievements, and funding opportunities that educate and empower Alberta's next generation. This progression allows for a larger positive environmental impact that benefits individuals and communities all across our province.
We do this through the generous support of our sponsors who are dedicated to creating a bright future for our province and our planet.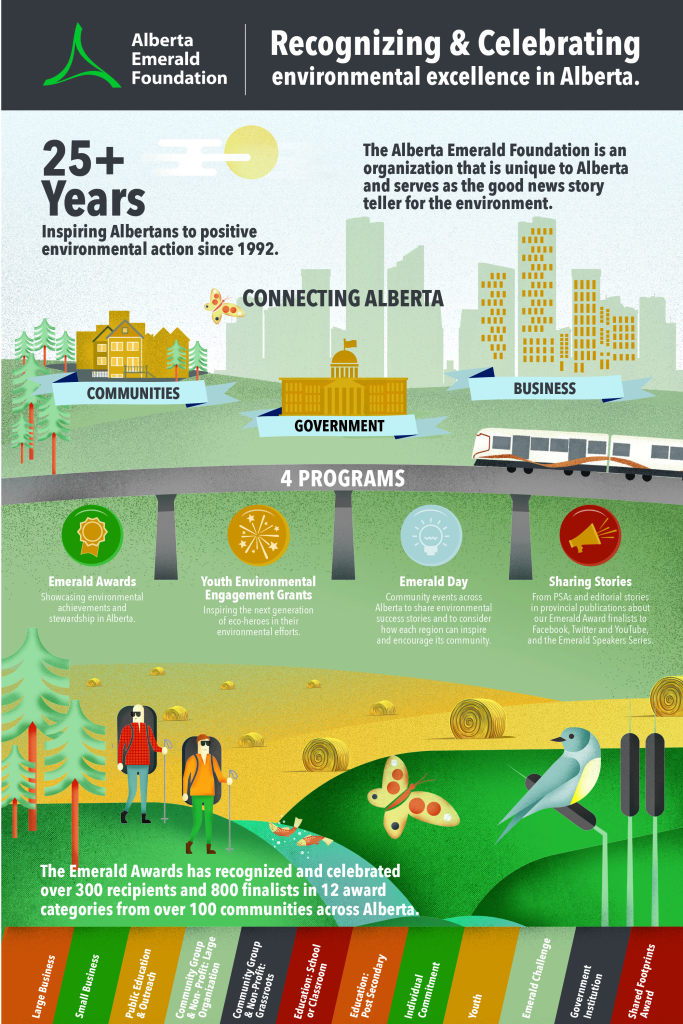 MISSION
To recognize and celebrate environmental excellence.
VISION
Alberta Emerald Foundation inspires environmental excellence and improvement.
WE VALUE
Promoting environmental leadership.
Communicating and collaborating with others.
Ensuring the integrity and credibility of the Foundation.
Engaging the next generation.
Who We Are
The Alberta Emerald Foundation operates almost exclusively through the contributions of time and talent of committed volunteers. From board and committee members, to those who judge over 100 Emerald Award nominations each year, the importance of this group cannot be overlooked.
Chair:
Mark Brostrom
Director, City Environmental Strategies, Urban Form and Corporate Strategic Development, Economic & Environmental Sustainability
Vice-Chair:
Lee Funke
Consultant, Torque Communications
Past-Chair:
Andy Etmanski, Principal
Millennium EMS Solutions Ltd

Treasurer:
Alex Simpson, CA
Tourmaline Oil Corp.
Communications & Outreach Committee Chair:
Lee Funke
Consultant, Torque Communications
Resource Development Committee Chair
Vacant

Governance Committee Chair:
Maegan Lukian
Environmental Coordinator, Infrastructure, District Operations, Edmonton Public Schools
Alyssa Belanger, Lac La Biche Canadian Native Friendship Centre Association
Mortimer Capriles, Director of Sustainability and Innovation, Goodwill Industries of Alberta
Dick Ebersohn, Manager, Climate Change & Environment, Environmental & Safety Management, City of Calgary
Lee Foote, Professor, University of Alberta, and Director of the U of A Botanic Garden, U of A
JoAnn Jamieson, Partner, McLennan Ross LLP
Peter Koning, Director, Sustainable Development Integration, ConocoPhillips Canada
Kari McDonald, Chief Operating Officer, YellowBike Solutions Inc.
Robert Stokes, RPF, Executive Director, Community Engagement Branch, Strategy Division, Alberta Environment and Parks
Katherine Rogers, Energy Extension Coordinator, Alberta Agriculture and Forestry, Government of Alberta
Theresa Wynnyk, Company of Women on the Screen Inc.
Staff:
Executive Director:
Carmen Boyko
Communications & Outreach Manager:
Gregory Caswell
The Alberta Emerald Foundation is a registered charity.
CRA Charity Number #13380 0771 RR0001
Volunteering with the Alberta Emerald Foundation
The Alberta Emerald Foundation is volunteer driven. We thank those who generously share their time, talent and expertise. Volunteers are involved with the Board of Directors, committees, special events and as ambassadors.